Harbor Christian Church

Regional Area:
Orange County
Address:
2401 Irvine Avenue
Newport Beach, Calif. 92660
Contact:
Sandy Everett , Wedding Coordinator
(949) 462-0041
Sandy Everett , Church Secretary
(949) 645-5781
Fax:
(949) 722-6742
Facility Type:
Church

Description:
Harbor Christian Church is the perfect setting for weddings of 225 guests or fewer. The beautiful Spanish-style buildings, with spacious grounds surrounded by tall eucalyptus trees, lawns and small shrubbery, overlook the upper bay area of Newport Beach.
The main sanctuary is an open, high-beamed worship center, fully carpeted with semi-circle seating facing a raised altar that is backed by beautiful stained glass windows, decorative stonework and lush green plants. The sanctuary conveys a feeling of warmth and spirituality.
My name is Sandy Everett and I am the Wedding Coordinator at Harbor Christian Church. You do NOT have to be a member of Harbor Christian to get married here. Our prices vary depending on the number of guests.

Ceremony Capacity:
225

Availability:
Evenings, Saturdays and Sundays
Facility Contribution:
$710 - $775, based on the number of guests. Contribution includes our minister and church organist. We require a $150 deposit to hold the date, with the balance due 30 days before the wedding.

Services/Amenities Available:
Clergy Provided:
Yes

Music Allowed:
Yes
Own Clergy Permitted:
Yes, may co-officiate
Rehearsal:
Yes
Pre-marriage Counseling:
Yes

Brides Dressing Area:
Yes
Wedding Coordinator:
Yes
Handicapped Access:
Yes
Parking:
Yes
Alcohol Allowed:
No
The price for 41-100 guests is $710.00; the price for 101-150 guests is $725.00, and the price for 151-200 guests is $775.00. The price includes a contribution to the facility, a musical accompanist (either piano and/or organ) or sound technician to play CD's of your choice, wedding coordinator (includes rehearsal), custodial fees, and the minister's fee. We require a $150 deposit to hold the date, with the balance due 30 days before the wedding.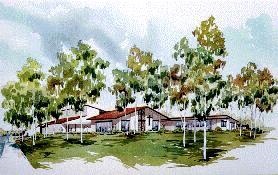 What Makes Us Special:
Our Wedding Minister, Dr. Dennis Short, is the former Chaplain at Chapman University and minister at the Community Church in Corona del Mar. He is well known and highly respected throughout Orange County for the many weddings he has performed. He is in great demand for his warm, happy and personal wedding ceremonies and enjoys doing interfaith as well as Christian weddings.
Dr. Short is also a Marriage, Family and Child Counselor and couples are very appreciative of his premarital counsel. These services are included in our wedding package.
Our experienced wedding coordinator, Sandy Everett, will assist in planning your ceremony and can refer you to reasonable photographers and reception facilities. Floral arrangements may also be made through Sandy or a florist of your choice.
Harbor Christian Church is easily accessible from highways and surface streets. The church is just one mile from the 55, 405 and 73 freeways, and provides ample parking for your guests. We are close to many locations for receptions, or if you prefer, our church does have facilities for small receptions of up to 100 guests.


Click the Icon below to request more information or to send comments.


Harbor Christian Church
---

Return to Orange County Ceremony Locations

Return to Orange County Index

Return to the Wedding Stars Home Page

Copyright © 1996 - 2012 Wedding Stars Online
Web site design by The Brookman Company