Le Cake

Wedding Cakes

Regional Area:
Southern California
Address:
2243 Martin Street, #109
Irvine, California 92612
Phone:
(949) 474-0207
Fax:
(949) 852-0153
Contact:
Pam O'Neill

Description:
In 1973 Pam O'Neill was living in Washington D.C. Her husband was working on a program that included Pam's presence weekly at the White House. Pam tired of the long speeches and found herself in the White House kitchen talking with the chefs. She saw a cake wrapped in chocolate - at that moment she knew what she wanted to do!
In 1984, Le Cake was born, and that same year her chocolate roses were featured in the Neiman Marcus Christmas catalog. Six thousand roses and hundreds of cakes later Pam's passion for artistic excellence and perfection of taste resulted in the 23k edible gold and edible silver "gift table" wedding cake. Pam's reputation expands across the United States. Her clients' wishes and her obsession with perfection makes Le Cake truly unusual. Pam O'Neill is your private chef and artist.

| | |
| --- | --- |
| Hours of Operation: | By appointment |
| Advance Booking Time: | Flexible |
| Delivery Area: | No charge for Southern California |
| Price Range: | $7.50 per person and up |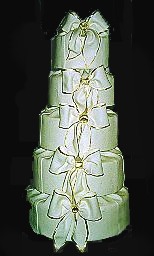 What Makes Us Special:

Le Cake books no more than one wedding cake for the day. Your cake has all the attention. Your interview has no limits. A complete miniature sample in the flavor of your choice is provided at no charge. Le Cake's special white or dark chocolate cakes are filled and frosted with dark or white chocolate truffle butter and raspberries, if desired. Complete set up of your cake is included in the price. Upon request, cakes can be shipped to anywhere in the U.S.

Le Cake also offers cakes for Gold and Silver Anniversaries, bridal showers and engagement parties. Pam's latest designs in gold and silver will please the most discriminating tastes - masterpieces equaled by no other cake designer.



Click the Icon below to request more information or to send comments.


Le Cake
---

Return to Orange County Bakeries

Return to Los Angeles County Bakeries

Return to Orange County Index

Return to Los Angeles County Index

Return to the Wedding Stars Home Page
Copyright © 1997, 1998 Wedding Stars Online
Created by The Brookman Company