Reverend Kimber Lee Wilkes, Ph.D.
Wedding Officiant and Marriage License Service


Regional Area:
Los Angeles, San Diego, Orange, Ventura and Santa Barbara Counties
Address:
Woodland Hills and Santa Clarita, California
Phone:
(818) 593-2007
(805) 531-3725
(310) 201-2909
Fax:
(818) 710-1552
Contact:
Kimber Wilkes
View Ceremony Video

Professional Background/Philosophy:
Dr. Kimber Lee Wilkes is truly a professional in her field. As an ordained Non-denominational Minister for over 17 years, Dr. Wilkes has a very calming approach to marriage, and knows how to help a Bride and Groom feel relaxed and comfortable on this most stressful day. Her warm smile and cheerful demeanor give the ceremony a feeling that the couple have known her for years.
Dr. Wilkes believes that every ceremony should be created especially for and reflect each couples tastes and beliefs. Every ceremony is a joyous occasion and should be treated as such. Nicknamed "The Minister to the Stars", Dr. Wilkes has performed ceremonies with different celebrities at many locations, including hotels, backyards, beaches, churches, parks, banquet facilities, gazebos, underwater, and even in a hot air balloons or two.
The Los Angeles Times and the Daily News have written numerous articles on her abilities over the years and she was a regular on the television show, "Here Comes the Bride". Dr. Wilkes also has a private counseling service and works with individuals and couples with pre and post marital counseling. Her philosophy is that she would like her couples to start off with a clean slate, rather than go into marriage with concerns.
Dr. Wilkes can assist in orchestrating the rehearsal and will work closely with other Ministers, Priests and Rabbis to co-officiate. She also offers a marriage license service that directly provides the Bride and Groom with their marriage license.

| | | |
| --- | --- | --- |
| Denomination/Affiliation: | Non-denominational | |
| Travel Area: | Los Angeles, San Diego, Orange, Ventura and Santa Barbara Counties | |
| Days and Times Available: | Any times | |
| Donation/Fees: | As arranged | |

Services Available:
Custom Ceremony:
Yes
Religious Ceremony:
Yes
Civil Ceremony:
Yes
Interfaith Ceremony:
Yes
Rehearsal:
Yes
Pre-Marriage Counseling:
Yes
Marriage License:
Yes

What Makes My Services Special: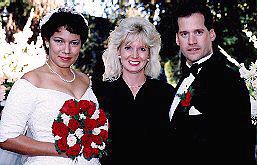 As a Non-Denominational Officiant , I service the needs of couples who are inter-faith or not associated with one particular denomination. With a Masters in Psychology and a Doctorate in Theology, I have the ability and insight to add in the different traditions and ethnic values into the ceremony. I believe in a very elegant, warm and personalized ceremony, working with the couple to create the words that best represent their ideas and lifestyle. A complimentary consultation is offered so we can get to know each other and review sample ceremonies, ranging from contemporary to spiritual, to traditional.
Each ceremony is created especially for you - no two ceremonies are alike. I feature Personalized Vows; a Rose Exchange for the Bride and groom, and parents; a Unity Candle; and drinking of the wine or breaking of the glass, also the bowl of blessings, which has become my trademark. I can also add to the ceremony by translating in a couple's native tongue.
For those who want something simple but elegant, I can perform civil and/ or immediate ceremonies. You can get married today, without standing in line or taking off of work to obtain your marriage license!

Here are some of the feelings expressed by Brides and Grooms:

"Dr. Wilkes is truly a God-send. Her professionalism and remarkable talent in presenting the ceremony was enlightening. The sincere words in the ceremony spoke our love, and remain with us forever. All of our guests agreed that we were blessed to have found her." Lisa and Bill Fowlings

"Our wedding was absolutely gorgeous thanks to Dr. Wilkes ceremony. She went out of her way to assist us so that everything was lovely. Our hats are off to her insight and experience." Sandy and Steve Kessler

"Thank You, Thank You!!! Our wedding day was more beautiful than we could ever imagine thanks to your caring suggestions and personal counseling." Bob and Katherine Calserine


Click the Icon below to request more information or to send comments.


Reverend Kimber Lee Wilkes
---

Return to Los Angeles County Officiant Index

Return to Santa Barbara and Ventura County Officiant Index

Return to Los Angeles County Index

Return to Santa Barbara and Ventura County Index

Return to the Wedding Stars Home Page

Copyright © 1997 - 2004 Wedding Stars Online
Web site design by The Brookman Company