The Cake Studio

Wedding Cakes

Regional Area:
Southern California
Phone:
(714) 964-7338
Fax:
(714) 841-4279
Contact:
Linda Goldsheft

Description: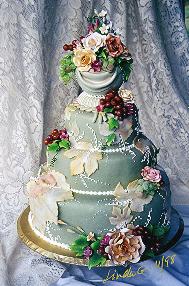 For 14 years, artisan Linda Goldsheft has been creating "Edible Works of Art" for Brides and Grooms who desire the very finest in wedding cakes. Simplicity and elegance are evident in every creation from The Cake Studio.
With her background in graphic arts, Linda designs each cake to be a masterpiece of style, craftsmanship and taste. Her technique of wrapping and draping cakes in chocolate or rolled fondant, and her exquisite hand-crafted sugar paste flowers have earned her accolades in publications such as Elegant Bride, Town and Country, People Magazine, Hello (United Kingdom), Wine Country International, and In-Style. Beautiful creations from The Cake Studio were selected to be showcased in Colin Cowie's newest book, Colin Cowie Weddings, and Linda was recently a guest on The Leeza Show.
From her studio in Orange County, California, Linda has created wedding cakes for celebrities Don Henley, Holly Robinson, Blair Underwood, Sugar Ray Leonard and Kelsey Grammer.

| | |
| --- | --- |
| Hours: | By appointment only |
| Advance Booking: | 6 to 9 months advisable |
| Delivery Area: | Flexible |
| Price Range: | varies depending upon design |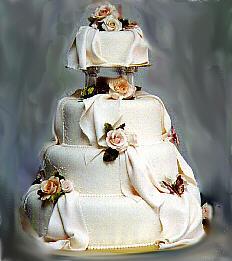 What Makes Us Special:
I work closely with each Bride and Groom to ensure that their cake reflects their personal "taste" and compliments the design elements of the wedding - for example, matching the design of the bride's wedding gown is a personal and favored touch.
Only the freshest and highest quality ingredients are used to produce cakes of superb taste and exquisite appearance. I limit the number of cakes created each week in order to give my fullest attention to the details of each cake. My heart and soul are in every wedding cake I create - my very best is what you can expect on your wedding day.
For more information, please call toll-free:

(877) 289-3199
---

Return to Orange County Bakeries

Return to Los Angeles County Bakeries

Return to San Diego County Bakeries

Return to Orange County Index

Return to Los Angeles County Index

Return to San Diego County Index

Return to the Wedding Stars Home Page
Copyright © 1997 - 2002 Wedding Stars Online
Created by The Brookman Company