Torrance Bakery

Wedding Cakes

Regional Area:
Los Angeles and Orange Counties
Address:
Torrance Bakery
1341 El Prado Avenue
Torrance, California 90501
Phone:
(310) 320-2722
Fax:
(310) 320-4233
Email:
TorrBakery@aol.com

Description:
Family-owned Torrance Bakery is the busiest bakery in Los Angeles and it's easy to see why. Our expertise and experience shows in the beautiful, finely crafted wedding cakes, the large selection of delicious cakes and fillings, unique wedding cake showroom, and our friendly, personalized service. The professional staff at Torrance Bakery is dedicated to making sure that choosing the most important cake you'll ever order will be a pleasant and stress-free experience. We know that today's celebration becomes tomorrow's lasting memory, and we're committed to ensuring that your wedding cake will be the one of your dreams.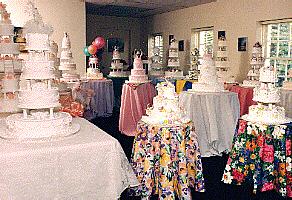 From elegant, traditional tiered cakes to contemporary custom creations, each Torrance Bakery cake is a unique work of art designed in accordance with your personal style. You can select from the hundreds of design variations in our wedding cake showroom and color portfolios. Or, bring us a picture or concept and we can custom design your cake to perfectly match your theme.
For those other special occasions, delight your friends and family with an edible masterpiece to celebrate your engagement, bridal shower, rehearsal dinner, or special birthday. From shaped baseball gloves to amazing portraits, let Torrance Bakery put the icing on your cake!

Bakery Hours:
Monday through Friday 6:30 am to 6:00 pm
Saturday 7:00 am to 5:00 pm
Sunday 8:00 am to 3:00 pm
Wedding Consultants Available:
Monday through Friday 10:00 am to 6:00 pm
Saturday 8:00 am to 5:00 pm
Appointments Recommended
Delivery Area:
Southern California, 7 days a week

What Makes Us Special:
Service!
Torrance Bakery is well known for its outstanding wedding cake service. Careful attention is given to every detail of your wedding cake, every step of the way! Once you put your cake in our hands, you can check it off your list and relax, knowing that we'll make sure that your cake is exactly what you want. Just a few reasons why you should give us a call:
| | |
| --- | --- |
| | Spacious showroom filled with over 30 display cakes and a large ornament selection |
| | Knowledgeable and friendly wedding cake consultants |
| | Generous sample cakes |
| | Highly trained and creative wedding cake decorators |
| | Careful and timely delivery |
| | Trusted by many distinguished hotels and restaurants for their wedding packages |
| | Delicious and beautiful cakes! |



Click the Icon below to request more information or to send comments.


Torrance Bakery
---

Return to Orange County Bakeries

Return to Los Angeles County Bakeries

Return to Orange County Index

Return to Los Angeles County Index

Return to the Wedding Stars Home Page
Copyright © 1996 Wedding Stars Online
Created by The Brookman Company