Wedding Ceremony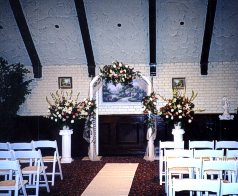 There is a charge for the use of the Rose room for a wedding ceremony. It includes the following:
Setup & Breakdown of Room
White Padded Chairs
White Cloth Runway
White 9 ft. Archway
Music and minister are left up to the client. Use of the bridal room (upstairs room) is available at no additional charge. This room can accommodate 100 guests. If the Manor is not in use on the day of your choice, and you request the main room, arrangements must be made with Westminster Manor Banquet House and Catering management and the charge for such use will be discussed with you, depending on what day and time of day.
Bringing In Your Own Alcoholic Beverages and Sodas
You are allowed to bring in your own alcoholic beverages and non-alcoholic beverages as long as you DO NOT sell them as a cash bar.
The Westminster Manor bartending fee is $25.00 per hour for one bartender who will setup your bar, serve drinks for your guests, clean up the bar after the event is over and load up your car with your unused beverages. A second bartender if needed, is avalable for an aditional $25.00 per hour. This is normally requested if the client has brought in more than 2 well drink selections and has more then 100 guests.
In addition, the city of Westminster does requires a $100 liquor permit. This fee is paid to the Westminster Manor and we will then pay the city of Westminster.
If this request is needed, please discuss this with Chef / Proprietor Daniel Lyons prior to your booking with The Westminster Manor, Thank you.

TOP