Cake Box Pastries

Wedding Cakes

Regional Area:
Orange County
Address:
6054 Warner Avenue
Huntington Beach, Calif. 92647
Phone:
(714) 842-9132
Fax:
(714) 842-9132
Contact:
Paul or Irene Gauweiler
Web Address:
www.cakeboxpastries.com

Description:
We are a German-French-American Cake and Pastry shop. We have been at this location for 34 years. We carry a full line of cakes, pastries, and cookies (no bread). We do all kinds of custom cakes and sweets. Our Pastry Chef apprenticed in Germany and earned a Masters Degree in Pastry Making at the age of 24. He worked 3 years in Paris, France. In the United States, he was Pastry Chef at the Disneyland Hotel for 5 years, Pastry Chef at Harvey's Resort and Casino for 3 years, and has participated in many culinary shows. We are possibly (probably) the only place on the West Coast that bakes Baumkuchen (Tree Cake) a German specialty considered the "King of Cakes" in Germany.

Specialty:
Wedding Cakes, Groom's Cakes, Shower Cakes, Custom Cakes, Pastries, Cookies, Baumkuchen
Hours:
8 to 4, Monday through Friday
8 to 3, Saturday
Advance Order Time:
4 to 8 weeks for Wedding Cakes, however we do short notice orders if possible
Delivery Area:
Flexible
Price Range:
Wedding Cakes start at $3.00 per serving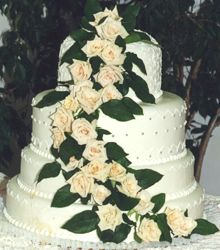 What Makes Us Special:
We give you choices - we make it any way you like it. On our wedding cakes, most tiers are 4 layers of cake with 3 layers of fillings. Our buttercream is made with real butter, and we can use real liqueur, if desired. Our cake designs range from simple to elegant to wild and crooked! Our fillings range from vanilla to whatever. We match your colors. Our price starts at $3.00 per person.
Good taste is our highest goal.
---

Return to Orange County Bakeries

Return to Orange County Index

Return to the Wedding Stars Home Page
Copyright © 2007 Wedding Stars Online
Created by The Brookman Company