Community Church of Corona del Mar

Regional Area:
Orange County
Address:
611 Heliotrope Avenue
Corona del Mar, California 92625
Contact:
Mrs. Pat Markle,
the Rev. Chip Fisher
Phone:
(949) 644-1617
Fax:
(949) 644-7724
Facility Type:
Church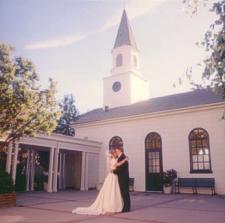 Description:
Set in this quiet residential neighborhood near the sea since 1945, our church features a tall white steeple and stately columns in front. The lawn and abundant flower gardens are carefully maintained year-round, and an outdoor courtyard provides pleasant space for mingling. The interior of the "sanctuary" in the main church building is intentionally plain and dignified, though not bare. Like the exterior, it is primarily white. Couples and guests often remark on the feeling of peace they experience as they enter into this sacred space. The intimate scale of our interior works very nicely: we seat up to 220, but it also feels "just right" with far fewer.
Our Parlor adjacent to the sanctuary provides a space especially well suited for brides and their attendants while they're getting ready for the wedding. Our traditional Colonial style church building is very unusual in Orange County. Our interior was extensively refurbished with lovely new carpeting, paint and wood trim in late 2001.

Ceremony Capacity:
up to 220 guests
Availability:
Friday evenings, Saturdays, Sunday afternoons (please confirm times with our Wedding Director Ms. Pat Markle)
Ceremony Costs:
Visit our website for current pricing at www.cdmucc.com.

Services/Amenities Available:
Clergy Provided:
Yes
Music Allowed:
Yes
Own Clergy Permitted:
Yes, co-officient possible
Rehearsal:
Yes
Pre-marriage Counseling:
Yes
Brides Dressing Area:
Yes
Wedding Coordinator:
Yes
Handicapped Access:
Yes
Parking:
Yes
Alcohol Allowed:
No

What Makes Us Distinctive: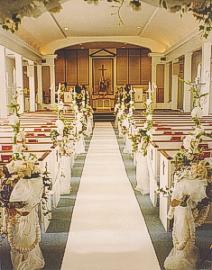 When brides enter into our church sanctuary for the first time, they will often say, "This is just what I have dreamed of. It's perfect."

Our church has been the site of many, many weddings over the years - just through "word of mouth"- for two main reasons. One, the architecture and building and sacred space are charming. Two, the couples married here are invariably extremely pleased not only with the wedding itself but their entire experience with us. Our staff is experienced and professional while also personally warm and excited about our weddings. We value flexibility so that your celebration may reflect the elements and emphases important to you. We want to get to know you and work with you to realize what you have in mind. We hope that you will welcome the presence and blessings of God in your marriage, although we are respectful of your beliefs at the same time.

We are honored that you might allow us to play a part in a joyful ceremony of such lasting importance in your life.



Also visit our web site at www.cdmucc.com
---

Return to Orange County Ceremony Locations

Return to Orange County Index

Return to the Wedding Stars Home Page

Copyright © 2002 - 2008 Wedding Stars Online
Created by The Brookman Company