Kathy Jo Peterson
Weddings & Special Events

Regional Area:
Orange County
Phone:
(949) 362-9000
Email:
info@weddingsbykathy.com
Contact:
Kathy Jo Peterson

Professional Background:
Kathy Jo Peterson has always had a passion for weddings.
Having worked for fifteen years as a personal assistant to a foreign Prince and Princess, Kathy Jo mastered the skills of management and organization. She coordinated all aspects of special events hosted by the Royal Family, including the engagement of caterers, security, valets, entertainment and wait staff, as well as being onsite on the night of the event to provide direction and to ensure a successful affair.
And with the Royal Family, every day was an event!
For the past five years, Kathy Jo has been organizing special events, spending two years in the catering department of the prestigious, Five Star Center Club in Costa Mesa as their resident Wedding Specialist. She is proud to be referred by such esteemed establishments as the St. Regis, Center Club, Chris Lindsey Productions, Tiffany & Co., the Balboa Bay Club, Dove Canyon County Club, and South Coast Plaza Westin.
. . . Treating every Bride like a Princess, and her Family and Guests like Royalty
"Dearest Kathy Jo, How could we ever find the words or actions to express the immense gratitude and appreciation you deserve? You have been such a pivotal figure during our entire wedding planning and we cannot thank you enough. You are truly a magnificent person and it has been a dream to work with you during the most important days of our lives. Your sincerity, generosity, diligence and constant encouragement has made all the difference and we are truly blessed to have found you. Thank you so much for the reassuring words of comfort, the late night and early morning e-mail replies, and your creative and ingenious advice. We will definitely be your number one fans and spread the word about the miracles you make happen. Thanks again!" - Conrad and Christine

"We still hear from the family about what a lovely day it was. I'll be forever grateful for everything you did to make our special day such a special one! " - Florence & Alan

"Kathy Jo, If it wasn't for you, we wouldn't have been able to have such a beautiful wedding. We cannot thank you enough. Peter & I loved the way everything turned out. Thank you so much for all you've done for us to have the perfect wedding." - Jinny

"I wanted to thank you very much for everything you did to make my daughter's wedding a well-directed reception. Everything looked beautiful and ran smooth. My daughter and all my guests were very pleased." - Lou

| | | |
| --- | --- | --- |
| Services Available: | | Complete wedding coordination |
| Fees: | | Fees vary, depending on the specific needs of the Bride and Groom |

What Makes Us Special: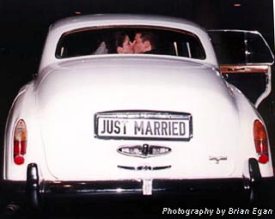 Each Wedding is unique, whether planning a small intimate gathering or an elaborate affair, it takes a tremendous amount of time and preparation.
We offer packages or customized coordination to meet your specific needs and can assist with all aspects of your wedding planning, including:
DJ's
Florals
Rentals
Caterers
Officiants
Live Music
Party Favors
Bridal Gowns
Transportation
Wedding Cakes
Wedding and Reception Sites
Photographers & Videographers
and more !
Please contact us for your complimentary consultation or for a Wedding Packet containing further information.
Click the Icon below to request more information or to send comments.


Kathy Jo Peterson
Or visit our Website at www.weddingsbykathy.com
---

Return to Orange County Wedding Coordinators

Return to Orange County Index

Return to the Wedding Stars Home Page
Copyright © 2003 - 2004 Wedding Stars Online
Web site design by The Brookman Company