Porter Valley Country Club

Regional Area:
Los Angeles
Address:
19216 Singing Hills Drive
Northridge, California 91326
Phone:
Fax:
(818) 360-1071
(818) 360-1076
Contact:
Julie or Miki
Facility Type:
Country Club

Description:
Surrounded by the green rolling hills of the Santa Susana Mountains, Porter Valley Country Club provides a picturesque setting for any special event. Completely renovated in 1997, the Spanish Mission style Clubhouse boasts large picture windows and a wrap-around terrace, offering panoramic views of the foothills, tree-lined golf course and pond. The spacious banquet rooms are beautifully decorated in soft, airy colors and accented with crown molding and English chandeliers.
For thirty years, Porter Valley Country Club has been offering the very best to it's Members and guests. You and your guests are invited to enjoy the "Private Club Experience" on your wedding day.

Reception Capacity:
up to 300
Ceremony Capacity:
up to 250
Availability:
anytime, 7 days a week
Reservation Time Frame:
up to 18 months
Menu Price Range:
starting at $15.50++ per person
complete packages starting at $50.00++ per person
Facility Fee:
Starting at $600 for ceremony
$300 to $600 for reception

Services/Amenities Available:
Catering:
Yes
Music:
Yes
Alcohol:
Yes
Dance floor:
Yes
Outside Caterers:
No
Bride's Dressing Area:
Yes
Tables, Chairs:
Yes
Outdoor Reception Area:
Yes
China, Linen, Silver:
Yes
Outdoor Ceremony Area:
Yes
Parking:
Yes
Smoking Area:
Yes
Valet:
Yes
Co-ordinator Available:
Yes
Overnight Accommodations:
Nearby
View:
Yes
Wheelchair Access:
Yes

What Makes Us Special: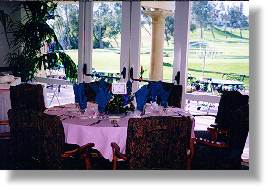 Porter Valley Country Club is a private facility that is offered to non-members for special events. Guests receive the benefit of a trained, conscientious staff that excels in providing the personal attention and professional service of the "Private Club Experience". Our pricing is competitive, our service exceptional.
Hundreds of weddings and parties are held each year. Our Catering Director and Party Coordinator have 25 years experience in planning special events and weddings. We take the stress out of wedding planning by providing the services of a wedding coordinator. Our wedding packages include a full bar, champagne toast, hors d'oeuvres, wedding cake and choice of entree. Customized menus are also available.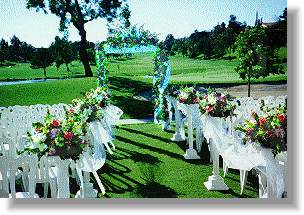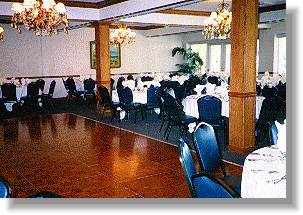 Porter Valley Country Club
Sample Wedding Package

Five Hour Hosted Bar
Sparkling Fruit Punch and Champagne Punch

Hors D'oeuvres
Chinese Pot Stickers
Mini Pizza Squares
Quiche Lorraine
Fresh Fruit Tree

Club Select Wine Served with Meal

Traditional Caesar Salad
Romano Cheese

Chicken Oscar
Sauteed Boneless Breast of Chicken
Topped with Fresh Asparagus Spears and Crab Meat
Glazed with a Bernaise Sauce
Fresh Seasonal Vegetables
Rice Pilaf

Champagne Toast

Wedding Cake
Bride's Choice
of a Variety of Flavors, Fillings and Icings

Coffee and Tea Service
$50.00++ per person



Click the Icon below to request more information or to send comments.


Porter Valley Country Club
---

Return to Los Angeles County Reception Locations

Return to Los Angeles County Ceremony Locations

Return to Los Angeles County Index

Return to the Wedding Stars Home Page
Copyright © 1998 Wedding Stars Online
Created by The Brookman Company