Regional Area:
Southern California
Address:
13807 Ventura Blvd.
Sherman Oaks, California 91423
Phone:
Fax:
(818) 981-9950
(818) 981-9250
Contact:
Yifat Oren or Nicole Netzah
Email:
info@yifatoren.com

Professional Background:
Cultivating romance at every event, Yifat Oren & Associates combine the elements of flame, flora and flavor to create an ambiance to heighten the senses. With a flair to fuse the most exquisite components even the simplest of location is transformed into a romantic destination.
Yifat Oren began her career in the special events industry 10 years ago as the publisher of Wedding Celebrations, a complete guide for special events. As a result of the acclaimed success of this venture, Yifat noticed the need for a knowledgeable and reliable source to ease much of the stress associated with the planning and production of a successful event. It is for this reason that Yifat launched Yifat Oren & Associates, a complete event planning company specializing in exquisite social gatherings. With technical knowledge attained through extensive experience, Yifat combines her flair for art and style to provide the most discerning clientele with incomparable soirees. Yifat Oren & Associates is honored to have been featured in Elegant Bride, Special Events, Brentwood and In Style wedding magazines.
Interpreting the bride and groom's vision with details of extreme beauty and delicacy, such as mood lighting and specialty linens, is sure to create an evening of unparalleled spirit. Yifat and Staff have surprised many a bride and groom by arranging for a trail of rose petals strewn from the bridal suite door to their bed, ensuring the romance lasts long after the last guest has departed.
Whether celebrating your nuptials with 20 or 200 of your loved ones, Yifat Oren and Staff will help you travel down the aisle worry free, with all the details attended to by a professional staff, assuring your evening truly is a romantic celebration enjoyed by all who attend.

| | | |
| --- | --- | --- |
| Services Available: | | Event Design, Orchestration and Coordination |
| Price Range: | | Personalized packages based upon the level of service agreed upon |

What Makes Our Services Special: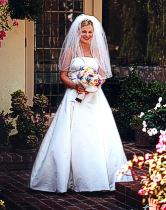 Because a wedding is a once-in-a-lifetime event, interpreting your dreams and wishes is a responsibility we approach with the greatest of care. Our challenge is to see through your eyes and reflect your personal style. To get to know you and what your wedding dreams are made of. We provide creativity, sensitivity, flexibility, and understanding. Our aim is to achieve the best possible results in a timely, budget-conscious, and beautiful way. We must be alert to the details during the planning stages as well as the "last-minute" ones so that your special day runs smoothly.
Each wedding day is a complex blend of family, emotion, social occasion, religious ceremony, passion and coincidental elements. The goal is to allow you to experience an abundance of lovely memories in this time of celebration.



Click the Icon below to request more information or to send comments.


Yifat Oren & Associates
---

Return to Los Angeles County Wedding Coordinators

Return to Los Angeles County Index

Return to the Wedding Stars Home Page
Copyright © 2000 - 2004 Wedding Stars Online
Web site design by The Brookman Company