| | |
| --- | --- |
| | The Center Club |
| Regional Area: | Orange County |
| Address: | 650 Town Center Drive |
| | Costa Mesa, California 92626 |
| Phone: | (714) 438-3860 |
| Fax: | (714) 557-3948 |
| | |
| Contact: | Christina Casad |
| | Director of Catering |
| | |
| Facility Type: | Private Dining Club |
| | |
| | |
| | |
| | |
| | |
| | |

Description:
The Center Club combines the unique personality of Orange County with the finest Club traditions from around the world. The unique water and sculpture gardens beyond the dining rooms were specially created by Peter Walker to provide guests a sense of inspiration and quiet beauty. The Club conveys the warmth and elegance of a private home, and is appointed with a notable art collection depicting California impressionism artwork and two original sculptures by Swedish artist Carl Milles.
For 18 years, the Center Club has established a tradition of fine cuisine and gracious service. The elegant silver and crystal table settings, and superior vintage wines complete the incomparable dining experience.
The Center Club has been the location of choice for entertaining visiting dignitaries including Their Majesties King Carl XVI Gustaf and Queen Silvia of Sweden, Prime Minister Margaret Thatcher, Prime Minister Toshiki Kaifu of Japan and their Royal Highnesses Princess Anne and Prince Angus of Great Britain. Orange County's Artistic Support Groups have hosted receptions honoring such major performers as Mikhail Baryshnikov, Liza Minnelli, George Burns, Placido Domingo and Richard Chamberlain. The Club is also honored to have been chosen to host preview parties for such popular authors as Judith Krantz, Amy Tan and Dave Barry.

| | |
| --- | --- |
| Reception Capacity: | 50 - 200 |
| Ceremony Capacity: | 50 - 200 |
| Availability: | Daytime or evening |
| | 7 days a week |
| Reservation Time Frame: | 6 months |
| Price Range: | Complete packages starting at $75.00++ per person |
| Facility Fee: | $700 to $1400 for reception |
| | $800 for ceremony |

Services/Amenities Available:


Catering:
Yes
Music:
Yes
Alcohol:
Yes
Dance floor:
Yes
Outside Caterers:
No
Bride's Dressing Area:
Yes
Tables, Chairs:
Yes
Outdoor Reception Area:
Yes
China, Linen, Silver:
Yes
Outdoor Ceremony Area:
Yes
Parking:
Yes
Smoking Area:
Yes
Valet:
Yes
Co-ordinator Available:
Yes
Overnight Accommodations:
Nearby
View:
Yes
Wheelchair Access:
Yes

What Makes Us Special: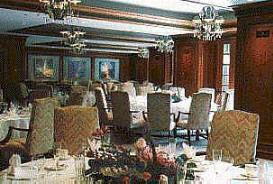 We are a full service location that provides complete wedding planning from start to finish. Our hours, menus, and detailing are flexible. As the Bride and Groom you will receive personalized planning assistance to insure that your party reflects your special personality. The elegant, private ambiance of the Club offers a unique option for those that wish to avoid having their celebration in the "public eye" of a hotel or restaurant. As a prestigious private Club, a member sponsor is required. If necessary, we may be able to assist you in this process. Our well trained professional staff has a history of "the best serving the best". We strive to take care of your every need.





Center Club
Sample Menu
Hors D'oeuvres Butler Style, White Glove Service
Tartelets of Wild Mushrooms
Smoked Salmon Roses
Petite Crab Cakes
Baby Greens with Papaya
Tossed with Hearts of Palm and Toasted Almonds
Papaya Dressing
Grilled Breast of Chicken Bordelaise
with Artichokes and Mushrooms
Shallot Whipped Potatoes
Baby Vegetables
Wedding Cake
Rich Chocolate Truffle Cake
Filled with Belgium Chocolate Mousse flavored with Framboise, Chocolate Ganache and Fresh Raspberries
Ivory Buttercream Icing
French Roast Coffee

Click the Icon below to request more information or to send comments.


The Center Club

The Center Club also recommends these fine professionals in planning your wedding:
---

Return to Orange County Reception Locations

Return to Orange County Ceremony Locations

Return to Orange County Index

Return to the Wedding Stars Home Page
Copyright © 1996 - 2008 Wedding Stars Online
Web site design by The Brookman Company